Off we go…. Tunisia to Pantellaria, May 5, 2015
Finally – back aboard Purrr, maybe for good!
The last three and a half months have been such a whirlwind, I don't know where to start!! Buying a boat, experiencing Carnival in Trinidad with a group of our greatest friends, getting married (three times no less – a whole other story), packing up all our worldly belongings, moving out of our house, moving onto our boat in Tunisia, sailing our new home to Italy….  All in three and a half months! No wonder I can't believe it's already May 16!!!
Right now Sue and I are in sitting around the salon table — where we intend to spend the whole day!! — listening to the rain and wind howling through Purrr's rigging. It's the first day of rain and cool weather since we stepped aboard our new home two and a half weeks ago. We are tied stern-to a pontoon (that's what they call a floating dock in the Med), in a small 30 or so boat marina in Trapani, Sicily. How about that!?!?!
Trapani is a very cool town of about a half-million people located on the east side of Sicily about a 45 minute drive from the Palermo airport. It is a quintessential medieval harbour town dating from something significantly B.C. It has a long wall along the sea that you can walk along and a harbour that houses one of the largest fishing fleets in Italy. Large parts of the old town are pedestrian only walkways lined with cafes, pizzerias and bars, all spilling into the streets (Wiki Trapani). We seem to have adopted it as our temporary base.  But we really miss the people of Tunisia — I think we will quite possibly be using Tunisians as the defining benchmark of welcoming sincere friendliness for quite some time to come! But, Sicilians sure know how to cook and make wine, and they have a really beautiful country!!
We owe a world of thanks to my very good friend Frank, who risked life and limb (the wrath of his still not yet retired wife Diane, for taking yet another vacation without her while she had to stay home and work!) to join us and help us on our first sail! Frank once again showed his complete trust and faith in me — something I have often questioned about him! He didn't think twice about traveling to Tunisia, helping to prepare and sail a boat he had never seen before (let alone knew anything about) at a time and in a place that is known for its unsettled weather and short rough seas, through one of the busiest commercial shipping lanes in the world… Frank and I have sailed together for longer than I care to admit – some 30 odd years. He is the best first mate I've ever had! His being with us made the world of difference for both Sue and I, but especially for Sue — since this was really her first true sailing experience (not at all the same as a Caribbean charter!).
Before we left Tunisia the three of us did a quick 2-day road trip to visit Salma in Sfax (see our Nov 29, 2014 post).
We met Salma last November when we first came to Tunisia. She owns and operates a fabulous B&B in Sfax. In November we found her because we were looking for a place to stay. This time we went to Sfax primarily to see her. She cooked us the most incredible traditional Tunisian dinner one can imagine, and invited a group of her family and friends to share it with us, and the next day took us for a tour of the old Medina. Those two short days were unforgettable! Salma has become a true and very sincere friend, and we fully expect to meet her in our travels again one day before too long. If you ever find yourself heading to Tunisia — which I can't recommend enough! — a few nights with Salma are a must! (Dar Salma)
Not long after  visiting Salma, we we received the following email on SV-Purrr.com:
My name is Salma the Bédouin
Dear Purrrr,
Bonsoir Purrrr,
I saw your pictures, you look very beautiful. The most beautiful boat I saw. But I want to meet you.
I love sailing, I love cooking, eating, drinking, working, dansing, singing, visiting, smiling, laughing etc…….
So, If you are looking for someone to make you happiest than you are, i'm here my Purrrrr.
I know your captain Charles and his wife Su, they are good persons, but they told me, they fill your thank with fuel. My dear Purrr, I will fill your tank with bio and fresh products;
I also know  Frank, he is a very good man.
They let you alone at hammamet, and came here to see me.
Next time, I invite you to Sfax, I will reserve you a wide  place to fill confortable.
Come back soon my Purrrrr
Kisses for you and don't forget to kiss for me captain Charles, my Su, and my friend Frank and tell them that we spent good time together.
Bye Purrr and good sailing.
We love you Salma…. 🙂
The day before we departed Tunisia, we re-christened our new home "Purrr". We did everything we could to appease Neptune, as we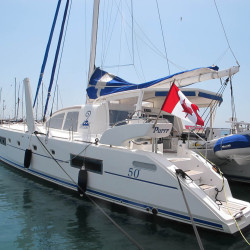 were told by many sailors that changing the name of a boat must be done carefully and correctly so as not to piss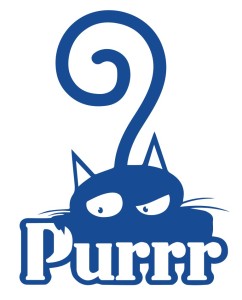 Neptune off! The ceremony requires careful planning. Everything that contained the previous name must be removed from the boat. We scoured lockers for the name on sail bags, we removed the name from the dinghy; everything we could find with the old name was removed. Then, standing on starboard bow, we opened a special bottle of the finest and rarest of German brandy (aka schnapps) — since our boat is of French origin rum just didn't seem appropriate — and first gave the largest portion to Neptune, then a very healthy dollop onto her bows, and then of course to ourselves, which we used to toast our newly christened "Purrr". After that we promptly dressed her in her new name and port, and proudly raised her new flag — the very beautiful red maple leaf.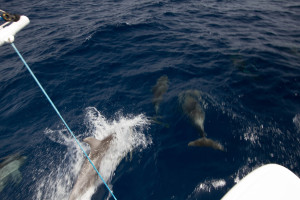 The next day we departed at about 4:30 am for Pantellaria, Italy. Pantellaria is a small Island about 75 miles from our departure point, pretty much halfway between Tunisia and Sicily. We knew Neptune was happy with our ceremony when a pod of at least 20 dolphins joined us and escorted us out of Tunisian waters. I had seen countless videos of dolphins playing in the bow wave, and even had it happen once to us about 13 years ago on a powerboat charter in Florida, but never so many, nor were they anywhere near as big. These were the largest dolphins I had ever seen! They stayed with us for at least 10 minutes, diving in and out of the bow waves, swimming along under our trampoline and all around us. Then as quickly as they had appeared they left. A truly amazing sight!
I got my first lesson in harbour etiquette when we entered Pantellaria harbour. First time entering a foreign country! As we approached the dock — which by then had no less than four very helpful Italian men (two of which we later found out were Guardia Costiera — Italian coast guard) pointing us to a place where we should moor and waving and gesturing that they would take our lines and help us. As we approached our radio came alive. Frank and Sue were on the bow, getting everything ready, and totally oblivious to the obviously not friendly voice of the port Capitano on the radio insisting I answer him immediately!  ….No matter how hard I had tried to explain how simple the procedure of tying off stern-to a concrete pier in a foreign harbour (even though we don't speak their language) would be in the weeks before this moment, I just couldn't convince Sue that we were going to get through it alive!! She was absolutely convinced we were all going to die. So, when I called her to take the wheel and told her to hold (circle) Purrr off the quay while I went below to talk to someone on the radio instead of going to tie up as the men on the dock were so adamant we do, to say she was not impressed is somewhat of an understatement! Reluctantly, and only when she saw I was serious (amazing how easy it is to convey seriousness by simply abandoning the wheel and going down/inside in a the middle of a small harbour), she took over the helm (note to the skipper's "must buy list" – a hand held VHF so that I can talk and steer the boat at the same time). Meanwhile inside I was getting chastised by the port Capitano for attempting, no ENTERING HIS PORT UANNOUNCED!!!! (lesson learned – one must announce one's arrival and departure along with number of persons aboard and their nationality well in advance of both of those events occurring!!), while above,m a very nervous Sue and Frank were getting more and more animated gestures from the men on the dock as they obviously couldn't understand our reluctance to take their advice and help! I calmed the port captain down by giving him the truth, that this was my first ever port entry in the Med, which after a few back and forths I think he believed, when he started to chuckle something in Italian to another person and they both began to laugh — sometimes it's good that I don't understand Italian!  With the approval of the Capitano we went in and completed our first ever stern-to Mediterranean moor. Not to shabbily either. It only garnished a few head shakes and chuckles from the helpful dock hands!! After we were all tied up and Sue had recovered, her words were something like: "that wasn't so bad after all"
Funny thing actual experience is — for months, no years, I've been asking Sue toi let me give her some knot tying lessons, to no avail. One actual docking experience where she fumbled the lines pretty badly, and within hours she had the knots all figured out!!! Amazing how four Italian men, two of which are Coast Guard, can motivate her…. !!!
In hindsight, I guess the Capitano's assertion might have been justified since some 30+ thousand illegal immigrants have entered Italy through and all around the very same waters that we were coming from North Africa to Italy….
Time to have some dinner and a bottle (or two) of Sicily's best! There's a fish market 50 meters from our boat. Every morning the fishermen put out their catch. It also attracts a few produce vendors, and right across the street is a panificio (bakery) that makes the best crusty bread….
More soon . . .