Made it to Turkey! Four months and 1500 miles after we started, with 2 days to spare!
Yup – we did it! We made it to the destination we set out to reach four months and almost 1500 miles ago… And we even have a couple of days to spare. How about that!?
We are about five miles from Ayvalik Turkey, anchored all alone in a gorgeous secluded bay called Cennet Koyu. We have marina space confirmed for tomorrow, and the wind has even started to subside! Just like we planned it!!
Our first impressions (less than 24 hours) of Turkey are exactly what we were told, and as we expected – wonderful! I haven't quite figured it out, but there is a completely different air about life here. Everyone is so friendly and happy. The town is a bustling mixture of old and new. The "market" district, with its narrow bustling streets probably looks much like it did 2000 years ago; lined with stalls selling everything and anything you could ever need, and probably a whole bunch more. Intermingled are the most modern designer shops and boutiques. The sights – like the older women in their colourful scarves and long skirts, mixed with the young, elegantly sexy (and beautiful) women, wearing sheer, flowing-in-the-breeze outfits, complete with head scarves and stilettos no less; and, the smells – of spices, roasting chickens, shawarma and fresh baked goods; and the sounds – of vendors calling and chanting to lure buyers, the call to prayer over loudspeakers – all mix wonderfully together to create a truly exotic feel.
It's been a fun and interesting time getting here. Since we crossed the Aegean (see our last post), we spent a few wonderful days touring the island of Chios, a night at a little island called Oinousses, motor-sailed most of the way to the town of Mytilini on the Island of Lesbos where we spent our last night in Greece, and did a quick two-hour motor over to Ayvalik, where we are now.
We spent most of the time on the Island of Chios, where we walked through the medieval towns of Mesta and Pirgi, we rented a car and drove to the north end of the island to a town called Agio Gala to visit a Church built over the opening of a large cave that has had inhabitants living in or around it for over 10,000 years. After Chios we clawed our way up-wind to our last stop in Greece, the Island of Lesbos. By the time we reached Lesbos we were out of time, so visiting the island will have to wait for another day. We stayed in a marina in the main town of Myltini because it was the only reasonable place to stay (in 25 knots of wind), that was close to the customs and immigration offices that we needed to check out of the next morning.
We woke up yesterday to an unfamiliar sound – silence! There was no wind. So we jumped out of bed and shoved off the marina dock and headed over to the customs offices at the other, commercial end of the harbour. It was there that we finally got a taste of why Greece has a less than stellar reputation when it comes to local people welcoming tourists. Until yesterday we had not really noticed the "rough/rude attitude" toward visitors that we had been told is prevalent in Greece (we had been asked a number of times by Greeks that we met, how we were finding the people – attitude wise! They had all said Greece has a bad reputation for rudeness and arrogance). We think we were probably exempt from the attitude because we are Canadian. Greeks love Canada. There is a very large population of Greeks in Canada, and many Greeks aspire to go there, so as soon as people found out we were Canadian, their attitude changed. And they always asked. Maybe because I had forgotten to put our flag out that morning, we and three other boats were treated to a very healthy dose of the exact attitude we had been warned about.
Our first approach to the customs dock was met with an angry yell telling and pointing us to leave – "Not now. Come back in two hours, at least" – with no explanation. Me being me, of course I didn't leave, I just started doing circles right off their dock, which turned out to be a good move because not five minutes later another agent told us to tie up in the exact spot the other had waved us off of!! So we backed onto the concrete wall, looped two lines (one off the outside end of each transom), around a bollard, and kept Purrr idling in forward pulling on the two lines, holding us perfectly perpendicular off the dock. Sue and Michael, with ship's papers and our passports in hand, jumped onto the dock. They were immediately met by the same customs officer that told me to come back in two hours, and ordered to get back on the boat, it was me that he wanted to take the ship's papers and go to the office (I guess checking out is a man's job!). I thoroughly enjoyed informing him that Sue is the "owner"; she does the paperwork; I am the skipper, I stay with the boat! I have also learned that as soon as the captain invokes his/her right to stay with their ship, they cannot ask him/her off without taking responsibility of the ship's safety, etc.! We figured out early on in our cruising life, that letting Sue do the checking in/out formalities greatly enhanced my chances of staying out of jail!! So off they went.
To their credit, they did have a lot on their hands. Not long after Sue and Michael disappeared into one of the several buildings they had to visit, I noticed 8 or 10 scruffy and meek looking men just standing around without purpose. A few of them walked over to take a closer look at Purrr and me. They didn't come too close nor did they say anything, they just stared with an empty sort of look completely void of any emotion. A couple of minutes at most later a customs official yelled at them to back away from the dock and sit down, which they immediately did, again with no sign of emotion. Then I realized what I was seeing. I had completely forgotten that Lesbos was one of the main islands that was getting the onslaught of refugees, and of course the customs and immigration dock that we were tied to, would be the place that they all got processed through if/when they got picked up.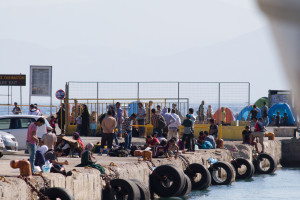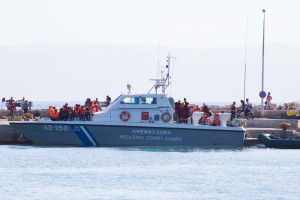 No sooner had that realization struck, when I noticed a small coast guard boat tying up a ways down the dock from us . It was crowded with people in life-jackets, and towing a large, now empty, inflatable raft. I then also noticed the tent camp at the far end of the dock. Lesbos was one of the main islands that the refugees were fleeing to. Understandably so, as Turkey is a mere eight miles away.
It's one thing to see or read about it in the news, it's another to actually see it. I will not forget the empty, almost lifeless look in the eyes of the few people that glanced over at me. One of those humbling moments in life that makes us realize the incredible disparity in the world we live in, and how truly lucky we are!
An hour and a half after tying up, Sue and Michael returned, with smiles on their faces (We were checked out!) and take-out food in hand! Seems one of the offices they had to go to was in town, so, ever-thinking Sue couldn't resist one last chance to do Greek fast-food!! The two of us do think an awful lot alike!!
About two hours later we were anchored outside the Ayvalik marina (because they were full, and had no space for us!). Same marina chain that we had stayed at the previous night at in Lesbos Greece (about 15 miles away). The same size and pretty much the same amenities, but in Greece the cost per night was 33 Euros. Here, when they if they find space for us, it will be 140 Euros! Yowza – so much for our plan of leaving Purr here for two weeks, and touring the inland country side!
My preliminary take on why such a big difference is that Turkey has long enjoyed a better reputation for tourism – friendlier and nicer – than Greece (we were told this by a number of Greeks), and now, add to that the financial mess that Greece is in, and Turkey wins the tourists hands down. The only reason we need a marina is because we want to leave Purrr unattended. Given a choice, we would never stay in a marina! Let's see: Marina = noisy, lots of lights, lots of people, dirty water (can't swim) and $140 Euros/night…. Anchorage (15 minutes from marina, five by dinghy) = secluded, beautiful scenery, swimming, quiet and dark at night, and free. Easy choice for us!
We shall see how nice Turkey is over the next weeks/months…