It Ain't Always Fun!!! :(
I've had worse days for sure, but I could probably count them on one hand!
Finally leaving Athens!
All of our preparation was done, Purrr was as finally as "ready" as we could get it, and as we needed it to be, for a month and a half of cruising with family and friends, and then another 2 months by ourselves before the time came to tuck ourselves in for the winter. Michael, Sue's youngest had arrived on schedule, and I had just returned from a 3-day business trip (yes – I do still "work"… a little!). So off we set, and not a minute too soon.
The weather in the Aegean in the summer is simple; always sunny and ridiculously hot, with the Meltemi wind thrown in to keep it interesting. The Meltemi is a warm wind from the north that blows fiercely and regularly for days at end. The only uncertainty is for how many days it will bless you with its presence! Most of the time you get a few days warning before it arrives so you can usually plan around it. Sometimes you don't! Because it's warm it doesn't cool things down, it just makes the heat a little more bearable. I feel like I'm not sweating as much, Fbut I'm convinced that's only because the wind sucks the sweat out of your pores before it has a chance to pool on your skin. The days are still hot! The dichotomy for a sailor is that if the Meltemi isn't blowing there isn't any wind! So it truly is feast or famine when it comes to sailing.
Everything we hear and read about sailing in Greece in the summer, July, August and the first bit of September, has the same theme; don't do it if you want to sail. Wait until mid-September or October. And, if you do go sailing during those months don't venture far from a protected harbour or anchorage.
The Meltemi arrives like a high speed freight train, sometimes without warning, but mostly with a day or two advance notice. Because it arrives so quickly, we have experienced no wind to 30 knots in what seems like 10 minutes, and the other way around. The seas can get very interesting indeed! Those of you that have sailed with me know that I have always been the one heading out for a sail when everyone else is running for shelter. I like wind! There are three main types of sailboats: racers, cruisers and cruiser/racers. All are designed to sail in strong winds and heavy seas. Not necessarily hurricanes, but sailboats are made to be sailed in 20 to 30 knots of wind. It's the people who own and sail them that might not be. So, as long as your boat is well built, well maintained and properly equipped, may as well have some fun! We have not let the Meltemi stop us, and in fact we've had our best sails in them. It doesn't get any better than sailing on a beam reach in 25 to 30 knots under a brilliant blue sky!
So here we were leaving Athens for the last time in who knows how long, and everything seemed to be going our way, including the weather. We had just spent a few very hot, no wind days in a marina, so we were very happy when we saw that the weather was changing and wind was coming.
We arrived at Sounio Bay, about three hours south of Athens, just before sunset. After a refreshing swim, a fabulous BBQ pork chop dinner and an evening under the stars listening to Michael strum some wonderful jazzy chords on his guitar, it was an easy decision to spend the next day anchored precisely where we were and to do it all again!
Sometime later the next afternoon, as I was reading the sailing pilot (a technical guide book that tells you everything you need to know about sailing in a specific area) in preparation for our next leg, I discovered a small paragraph that I hadn't noticed before titled "Caution". Apparently, passing through the Doro Strait, the gap between the islands of Andros and Evia, and the only way we could go to get to where we needed to be, was not to be attempted by small craft if the Meltemi was blowing! The wind gets amplified as it funnels through the Strait, and there is a 2 – 4 knot current created by the waves. Excerpt from the Greek Waters Pilot: "With gales from the north, small yachts should exercise considerable caution in the vicinity of the strait. I have seen large ships anchor in the roadstead off Karistos rather than proceed through the strait…" When freighters don't go, it gets my attention!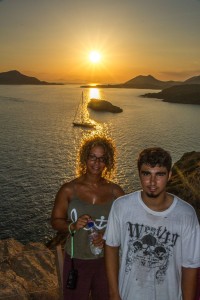 So after about an hour of checking the wind forecasts and looking over the charts to check sailing and wind angles etc., I calculated that we could still make our schedule if we made a dash for the island of Chios, 100 miles away on the other side of the Aegean almost directly east of the Doro Strait, provided we were anchor up by no later than 5:30 the next morning, so that we could make it through the Strait by noon. The forecast showed the winds steadily building over the next two days starting mid-morning. By noon the next day the Andros weather station was predicting 15 to 20 knots. I planned to cross the strait on a north easterly angle, which based on the very predictable north wind of the arriving Meltemi, would almost allow us to sail. But we could motor-sail, and it was only 10 miles to get through the gap. So only an hour and a half of discomfort out of a 12 to 14 hour day! J After we got through the Strait we should have a glorious beam reach the remaining 55 miles to Chios. So, with the plan set, we headed off bed early in anticipation of the very early (for us!) morning.
The alarm went off as planned, and about 10 minutes later we were on deck preparing to raise anchor. Our routine for long sails is Sue goes back to bed after we get underway for a few more hours of sleep, and then later in the day she takes over for me so I can nap. We had the anchor loose from the seabed and about 10 meters from the deck when the windlass suddenly stopped. The chain had wrapped itself around the windlass like it was a reel. It is not supposed to do that! To make matters worse, it was very tightly jammed. So we limped Purrr, with anchor dangling about 5 meters below the surface, out to deep water. After I determined that getting the chain unjammed would take more than a few minutes, we used the halyard winch on the mast to bring the rest of the chain and anchor on deck. With Sue at the helm turning circles I started to work trying to unjam the chain. After an hour and a half of hammering and prying (I've had anchor chains get jammed before, but never like this) we gave up and pointed Purrr's bows toward Athens, and started the three and a half hour motor back to the marina we had left a day earlier. As forecast, the wind had not started yet!
Sue was completely deflated and discouraged. One more thing to go wrong! And, after all this, we wouldn't make it to Turkey in time to meet our friend Anastasia. Turkey was also where Michael was to fly home from, and where our good friends Frank and Dian were to arrive at. At one point I'm pretty sure I heard Sue say something like "maybe it's time to give up and try a different mode of transport for our retirement travels."! Having no experience with boats (new or used), Sue had been finding the problems we were having with Purrr very difficult to cope with. There is no question that we have had a good bunch of repairs and maintenance, some of which were time consuming and frustrating. But we have not had an unusual amount by any means, and nothing we've had go wrong was dangerous or major, just annoying. Having bought and owned three used boats before, I know Purrr was in fantastic condition (and is even better now!), and everything that has happened is quite reasonable. I am not disappointed or discouraged in any way.
I knew our windlass problem would be a quick fix. We had one of, if not the, best windlasses on the market, and all it needed were some tools and a part that I didn't have (yet!). We discussed the possibility of leaving for Chios later that afternoon/evening and doing an overnight crossing direct from Athens, but quickly dismissed that thought when I realized we would be entering the Strait in the middle of the night, so after … and then, after about 2 minutes of cold sober thought, we decided we were going to have to just give up on Turkey – even though that was the prime destination for our first year cruising, and the schedule we had set out to achieve almost four months and 1500 nautical miles earlier. So what that we had to reschedule everyone's flights to Athens from Istanbul. The southern Greek Islands are spectacular also, so it really isn't a hardship; we could always do Turkey next year. So why did it feel so frustrating?
When Sue gets sad or disappointed there's no talking to her, and she was about as sad and disappointed (and grumpy) as I've ever seen her. So I headed off to the equivalent of my man cave; the helm. Nothing beats sitting in the open air, and at that moment, exerting ultimate power and control over the purring beast that ruined our day! If there is one thing I do not do easily, it is relent to defeat! After a 35 year career of almost literally, trying to push liquid up a hopeless slope, and then doing nothing much challenging the last few years, I have huge reserves of built-up tenacity just dying to take on and conquer a good challenge! The optimistic, bite off more than you can chew and then chew like hell side of my brain was saying damn the weather, we have a strong capable boat, we can do this!!!!! ….But then the logical, risk management, killjoy side of my brain kicked in. So I took out my cell phone and wrote Frank a long email telling him we were making a change in plans. ….With decision made and course changed, I started to feel (a little) better.
I've always prescribed to looking ahead at the bright side, only look back so that you learn from your mistakes…. So, with my new found logic and optimism in hand, I engaged the autopilot and eagerly set off to see if I could pull Sue out of her funk with some of my new found logic. And then it happened! As I stood up from the helm seat my cellphone caught on the wheel and flipped out of my hand. I stood frozen. I could not believe what was happening! It was as if every ray of hope had to be squashed. I watched it first bounce off the helm seat, then the step that he helm is on and then what seemed like each of the four transom steps, any one of which it could have landed flat on and stopped it's determination to completely ruin the new thread of hope I had just built, but no, it just kept on going, right off the end. I swear I heard nah nah na na nah ringing out of it as it slipped beneath the frothing wake. You will be pleased to know that I didn't let it go silently. I screamed profanities so loud that Sue came bolting out of our stateroom below convinced we were either about to die, or that I had fallen overboard!
After about an hour of testing the theory that misery loves company, we pulled out the two old broken cell phones to see if we could get one to work with my Canadian sim card. And of course we only had one completely functioning cell phone between us because I was reluctant to spend the money it would cost to replace Sue's 10 year old antique half-working phone when it finally packed it in a month ago, even though she had repeatedly said she wanted/should have/needed her own phone…. After eating lots of I told you so pie, we finally managed to get one of our antique phones to make calls. At full Canadian roaming rates of course, about $6.00per minute! Just imagine trying to communicate with service technicians in their second language at $6.00 per minute! So much for my new found optimism! And, I was still replaying the moment my phone splashed down over and over in my mind, for no other logical reason than to feed the devil that lives in the pessimistic side of my brain!!
The one good thing for us about the financial tragedy that Greece is working its way through is that it is incredibly easy to get quality, experienced technical help in very short notice. The Windlass technician was on his way! Dare my optimism poke its head out from under the rock that it slithered under…. It was all I could do to pry Sue away from her computer where she had already started looking for road trips and other things we could do for the next week and a bit that Michael would be with us, and convince her to take a taxi into town and buy a cell phone. If we hurry, and if the repair didn't take too long, we could still leave and head out to the nearby islands. Unfortunately, Sue does not quite share my optimism! But I had a secret weapon; something much stronger. As blue or upset or angry Sue is, she cannot resist a chance to go shopping, especially when it is for herself and for something she wanted and thought she should have gotten long ago! So off her and Michael went.
With Sue gone and me waiting the promised half an hour for the windlass technician to arrive, I set out to ask some folks that might have local knowledge, what they thought about us going through the Doro Strait tomorrow. I did say I was tenacious…. The first two, one marina worker and one crew member of a motor yacht berthed across from us, both said it was crazy to even think of it. The forecasts were for steadily building winds starting late this afternoon (everyone that lives or works around boats knows the weather forecast). They recommended we stay put, or if we really wanted to venture out, to go to some of the very pretty) islands much closer to Athens. When the first technician arrived and we were waiting for his partner (everyone seems to do things in teams), I asked him what he thought as well. He was obviously a sailor because he knew and greatly admired Purrr. He offered, and I quickly accepted, to call a sailing buddy of his who happened to be an Olympic racing sailor that knew the Aegean inside out. His buddy said he would call back after he did a bit of weather research. Not five minutes later he did just that and his advice was that we should have no problem at all. The forecasts had pushed the arrival of the heavy winds off almost a day, so although it would be a bit rough, we had a very competent boat that would take everything in stride. That was all I needed. By 4pm, with windlass fixed, and as an added bonus, a new propane tank fitting in hand that we could not get in time a few days earlier, we cast off and headed back to Sounio Bay to set the stage for our 100 mile leg across the Aegean to the island of Chios the next day (yesterday). Nothing like climbing right back on the Cat after it throws you off!
The alarm went off at 05:00, and we had the anchor up (without a hitch) and our way around the point, with Poseidon looking over us from his temple high above, by 05:45. We turned the corner out of the bay and headed almost dead north and into the wind. By 07:15 we had 20 knots of wind dead blowing straight at us. So much for the forecast that said the wind wouldn't start until close to noon!
Oh well, what's the worst that could happen!? The Strait was 6 miles wide at its narrowest, and we were starting from the edge of the west side, so if it was too bad, all we had to do is turn ourselves downwind, tuck Purrr's tail firmly between her hulls, and let the wind push us back the direction we had come. The humiliation of defeat aside, all that would be lost is the better part of a day!
The first pleasant surprise came an hour later when we turned the corner to head NE for the 21 miles to the south entrance of the much anticipated Doro Strait. We were able to sail! We hoisted the main with the second reef tucked into it, and unfurled the solent (self-tacking jib), and sheeted them in as tight as we could. The motion and sound instantly got civil (motoring into one meter waves with 20 knots of wind dead on can be a bit noisy and bouncy, even in Purrr!). For the next almost 3 hours we had a fabulous sail. Even our electronics were working perfectly. The problem the auto pilot had holding a course seemed to be gone, the result of the most recent repair efforts. So we sat back in the morning sun and enjoyed. With apparent wind angle ranging from 42 to 60 degrees (50 to 80 true)and 20 knots of wind, we Purrred along at a steady 8.5 to 9.5 knots. Perfectly balanced, no weather helm at all.
We reached the southwestern edge of the Doro Strait at 11:00. As we came out from the lee of Evia, we immediately noticed what all the fuss was about. The wind increased by about 10 knots, from high teens to high 20's and it came around to about 25 degrees apparent, so we had to turn on the engines and motor sail. But the most noticeable difference of course were the waves. We went from the relative calm < 1 meter waves that we had in the lee of Evia to a very boisterous 2+ meters in less than 10 minutes. The waves in the Med are completely different than in the Atlantic or Caribbean. The fetch (distance of open water that waves have to build up – the longer the fetch, the larger and longer between the waves, in this case about 125miles), is relatively short and the wind builds from nothing very quickly, so the waves are very steep and short. Steep and short = uncomfortable to potentially dangerous. But so far so good. So long as we kept our speed down to below 7 knots we didn't pound, and we were not taking any blue water over our bows, but it was incredibly noisy and wet! Spray was tossed right over boat each time the bows came down.
The wonderful thing about Sue is she forgets the nasties very quickly. She had managed to sleep most of the time we were motoring earlier in the morning, and she came completely alive during our sail across to the Strait. At one point I think I may have even heard her apologise to Purrr for doubting her! So it gave me a great feeling when, as I was at the helm in my wet weather jacket, taking considerable spray in the face, I looked around and saw Michael sitting inside, happily playing his guitar, and Sue laying on the leeward cockpit bench, on her tummy, feet in the air, reading a novel, just as happy and comfortable as can be. I didn't have to ask to know that neither of them had the slightest concern over where we were and what we were doing. I guess that stands to reason, because aside from the spray and noise, Purrr handled the seas and wind like she was out for a Sunday stroll. Other than being a little difficult to walk around (we had to lie the water bottles down so they didn't fall down), everything was perfect.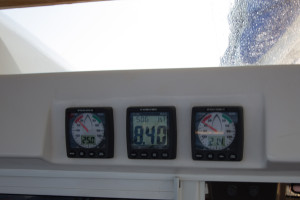 As it turned out, the 25+ knots of sustained winds were not just the effect of the strait. The Meltemi had arrived in full force. The angle of the wind was affected by the Strait, so around noon when we came to and were able to head off the wind a little, we turned off the engines and found ourselves sailing on a glorious beam reach (wind at about 90 degrees) the whole 55 remaining miles to Chios. And what a sail it was. As the day progressed the waves continued to build. At their peak, I am fairly certain we had some four or even five meter waves role under us. They were so steep that at times that Purrr resembled a monohull (for a few short seconds), and every once in a while the top of a wave would break just as it rolled under us, slapping into the side of Purrr and launching a torrent of white water over and through the windward side of the cockpit. But even that barely affect Purrr's determination top deliver us safe and sound. At no time did we ever feel like we were pushing her hard. She was comfortably purring all the way. We sailed at a steady 8ish knots all day. I don't think I adjusted the sails three times, and if I did, it wasn't because they needed it. The wind peaked at 30 knots, but seemed to stay unusually steady between 25 and 27. All was good. All was very good!!
The first "incident" happened when we lowered the main and put the engines in gear. The port engine immediately stalled, which it did again the second time I tried it. Sue just looked at me. Just before we entered the bay we came very close to a fishing float, so my immediate response was "I bet we just picked up a net line or something". I was very surprised to see that Sue wasn't immediately thrown back into her funk. Seems that the day's gloriousness had a more profound effect on her than one lost engine! The bay only had two other boats in it so that was a blessing. A catamaran handles incredibly well under power with its two widely spaced engines; when it has only one engine, not so well! So we selected our spot from a distance, and did one big circle to check the depths and found that it was going to be a relatively deep anchorage, 10 meters, so we needed lots of chain. We motored up (remember, we have almost 30 knots of wind blowing) and started to lower the anchor. Sue was at the bow and I at the helm. Normally we do it the other way around, but because of having just one engine… After about 15 meters of chain had let out it stopped. So I started pulling it up – no problem. But it would not go down! Sue and I just looked at each other and said nothing. Sue jumped to the helm and started heading to deeper water while I got a flashlight to see what had happened.
Ah ha! At the back of the chain locker, where the chain never usually goes, is an opening to the adjacent chain locker (Purrr is set up to carry two anchors), and, it seems when the repair folks were working on the windlass they must have tossed the chain to the back of the locker out of the way, which is when the chain fell into the opening and got stuck, so it would not run out freely. One flip of my boat hook and problem solved! Whew! Those kind of problems are very easy to fix and accept. 10 minutes later, firmly anchored I immediately donned my mask and flippers and jumped in to find Ah ha #2. The classic sheet over the side gets tangled in the prop move! Fixed in less than one minute. Purrr has two permanent head sails, the solent (or self-tailing jib) and the Code 0 (or genaker or genoa). We keep the sheets attached at all times. The Solent leads back to the main control pod, and there is only one because it is a self-tacking setup. The code 0 sheets lead back and we store them in sheet sacks mounted on the two helm stations. Seems that one or two of the rambunctious waves that slapped us on the side reached into the bag and pulled a bunch of sheet out, which of course fell overboard and wrapped itself around our prop the minute we put the engine in gear. Checking that all lines are onboard is something I do every time before starting the engine, as I had done this time. Since we hadn't used the Code 0, and the end of its sheet was still inside the bag, I assumed all was as it should be. Another easy fix!!!
So, the day ended perfectly (and quickly as we were all exhausted), and all was as good as it could be aboard Purrr once again.
A couple of quick FYIs:
Most of the repairs (mechanical, not electronic) that have been required on Purrr have been regular maintenance that is to be expected on a 6 year old boat, and all of which I could handle and make myself. However, since we have been on a schedule to get to Turkey for the past almost 4 months, and therefore time has been more important, I've elected to hire mechanics that know what they are doing instead of taking the time to figure things out myself. After we settle into our routine this winter, I fully expect to be doing most of these things myself.
On the day, we averaged just under 8 knots over about 100 miles. Top speed was 10.1, and the top wind speed was 30.1. Wave heights were hard to tell, but they were certainly the steepest and probably the highest waves I've sailed in. My guess is we had plenty of 5 meter monsters roll under us. About an hour and a half out of our destination, we sailed square through the main shipping channel that leads in and out of Istanbul. At one point we had 4 "targets" (ships) all converging within a 2 mile stretch to pass within a half mile of us. We only had to slow our speed down once for about 20 minutes to give two of them a little more space to pass in front of us, while at the same time a third one coming from the other direction clearly and graciously altered course to pass behind us instead of in front as our course was dictating.
It may be a very long time before we match that day's excitement and accomplishment!
Purrring Along….