Free at last (we hope!), after a catfight, a ransom paid and a broken tooth!
On arriving in Greece four days ago, as we were parallel parking our 17 meter (with bowsprit) Purrr into a 20 meter spot, between a Lagoon 450 and a 65 Ton wooden Gullet, in a 25 knot breeze that couldn't make up its mind which direction it wanted to blow, I heard the pilot boat operator yell "too slow, faster, faster!" ….Purrr didn't feel a thing, and neither did I, but I might have heard something, and the pilot boat operator claimed that the aft end of Purrr made contact with the Lagoon's port bow as we were slipping past! Shit might have just happened!!
The Lagoon's owner, a Turkish man living in Turkey without a local representative (a no-no!), sends two (very opportunistic) crew, from Turkey, to inspect the damage.
As amazing as it sounds, Purrr's alleged little "kiss" allegedly cracked the front edge of the bow to the degree that it cracked right through the hull! More like a full-fledged catfight than a kiss! Yet not sure how we explain that no one, not the marina's repair technician or the Lagoon crew could find even the smallest mark on Purrr. I always heard that Lagoons were, hmmm how should I word this?… "lightly" built, but this was crazy!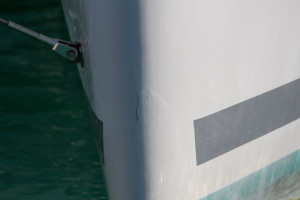 Pierre, the first hero of our story, and the marina's fiberglass repair technician, quoted a whopping 300 euros to repair the damage, after which I took a very reluctant 3 seconds to offer to pay the full cost of the repair (without accepting any responsibility of course) so as not to get insurance, port police, etc. involved. Pierre said he was sure the Lagoon crew would be very pleased about this, he would convey this to them and that he could do the repair first thing the next morning so we could be on our way as planned later that day.
The next morning on arrival of the two Lagoon crew, we immediately attempted to discuss our little situation with them but they wanted nothing to do with us, in fact they were outright miserable and essentially told us to get lost. So, somewhat relieved at the cost at least, off we went to have a wonderful afternoon touring Kos.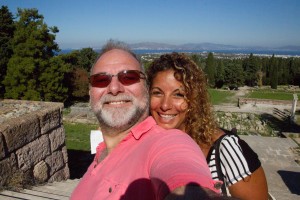 We returned later that evening to one very upset Lagoon crew, who had, it seemed, missed his ferry back to Turkey and therefore was faced with spending a night in Kos! Why did he miss his ferry? Because he wanted to extract a ransom from us of course, in addition to the repair bill! He claimed the owner would not be paying him anything for coming over, so we needed to pay more than just the repair! He actually expected me to believe that the owner of a ¾ million dollar yacht wasn't going to pay him to inspect his boat!!
As you might imagine, our conversation got a little heated. On hearing the commotion, the second hero of this story, Malcolm (skipper of the 65 ton Gullet in front of us and an expat Arminian Canadian living and working in Turkey for the past 15 years), decided I needed saving, and almost literally jumped into the picture. I owe a great deal of thanks to Malcolm. Not only did he expertly help me deal with the Lagoon crew, he also quite possibly kept me from landing in a Greek jail!! When all was said and done I had agreed to pay the scumbag, I mean Lagoon crew, another 100 euros in ransom. And, you may have noticed there was only one Lagoon crew; crew two we were told, was passed out drunk in his hotel room! We never did see drunken Lagoon crew again!
Next afternoon, after the repair was completed (yes, grinding and preparing, laying fiberglass, applying gelcoat, sanding and polishing, all done in about 4 hours!), we all met to settle up in the office of the third and most wonderful hero of this story, Antonis, the marina manager. Lagoon owner was to email a release to Purrr and the marina, and Purrr would pay repair and ransom. At least that is what was supposed to happen! All was well until Antonis tells us he is very glad that everything got settled for 350 euros (I thought it was 400!)! The lone remaining Lagoon crew had told Antonis the previous evening, before we had returned, that the full cost the owner would agree to, was 350 euros! Seems between then and when he met me on the dock he figured he'd try me for another 50! When Antonis heard this I think he was even more upset than I was! As far as he was concerned they had agreed to 350, and Mr. Buehler should and would not pay one cent more!! Needless to say, the crew was most unhappy about this, and after a telephone call to the owner, he reported to us that the owner wouldn't agree to anything less than 400, even if it means calling the port police and getting insurance involved! Our hero Antonis then does something amazing! He very nicely informs the scumbag to tell his owner that 1) a yacht berthed in a marina in Greece must have a representative on board at all times, and because he didn't have such a person on board, technically he would not be able to claim damages, and 2) even if he did win a claim, he would never be permitted to re-coup travel expenses (ransom) because of #1 above, and 3) if he didn't like Mr. Buehler's very generous offer, he would need to come to Greece himself immediately to remove his yacht from the marina, and no there would not be a refund of the remainder of the paid in full winter berthing!
Needless to say we settled for 350 euros!
We were prepared and offered to pay the 400 even after we found out about the 350 agreement just to get rid of this, but the manager was adamant that no one was going to blackmail anyone in his marina! Hats off to him. We wish there were more people like him in this world! And BTW, all of the Kos staff we met were wonderful. We highly recommend Kos Marina to anyone, and hope our travels will take us back again next year!
In the end, it seems the Lagoon crew was playing the owner off against us. He had told the owner that he had to pay for a hotel (which was a lie because the Marina gave them a room for free) and that he personally had paid a 100 euro deposit on the repair, which he hadn't. This is why the owner was adamant to get 400. So the crew was trying to extract money from the owner at the same time as trying to extract extra from us! We had sent a one-page clarifying letter to the owner and the whole thing was over in minutes, with a very nice letter of appreciation from the Owner to both us and the marina!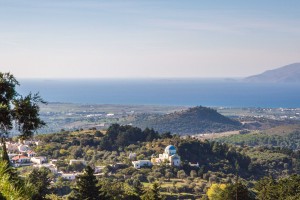 So after an extra (no charge from the marina) day in lovely Kos, and an incredible dinner, recommended by Antonis, in what might be the best restaurant of our whole trip to date, off we went to our own private anchorage in a spectacular bay on Pserimos Island. Not two hours later during dinner, Sue broke a tooth on an olive! So back to Kos Marina we went!
One tooth temporarily repaired, another night on the town, a sightseeing excursion to Asklepion, the place where Hippocrates, the father of modern medicine was to have studied, and we were back to our beautiful private anchorage!
Never a dull moment Purring along!