Dry Rain and Dragging Anchors!
Is that really rain!?!? It seems Neptune is trying to make up for four months of almost no rain, all in one fell swoop!
We started the morning with a flat calm (before the storm it seems) with a steady hard rain falling. It was wonderful. We are anchored in front of the castle in Bodrum Turkey, sipping hot coffee, the sound of the rain on our deck broken only by the even more exotic sound of the early afternoon call to prayer. Bodrum is the only town we've been to that has only one muezzin reciting the call to prayer, which is broadcast from all the Mosques, creating a wonderful harmony resonating over the harbour.
The wind started just a few minutes before the call to prayer – right on forecast. Early afternoon, east turning south as the day progresses, 10 to 15 knots, 20 knots maximum gusts mid-afternoon. Bang on – except for the wind strength!
About 10 minutes after capturing the call to prayer it is blowing much more than 15 knots and a sea is building in the harbour (Bodrum is not good for southeast to south winds)! As I'm sitting at the nav station writing a Facebook post to accompany my video, I notice out the corner of my eye the catamaran that was anchored behind us for the last two nights, starting to move out by us, and a bit too close for comfort at that. That's about the precise second that I also realize it wasn't it that was moving – it was us dragging our anchor!!
We are turning into such a well-tuned team – I am so proud of my Suzie! Within what seemed like no more than 5 seconds after I yelled that we were dragging – onto another boat – I was at the helm, both engines on and holding us off the other Cat that we were now within a boat-length of, and Sue was at the windlass pulling up the anchor (not another word exchanged between us, would have been too loud to hear anyway!). In our shorts and tee shirts, in the pouring rain, Sue is smiling. How wonderful – another one of those moments that confirmed for me that we had made the right decision to go sailing!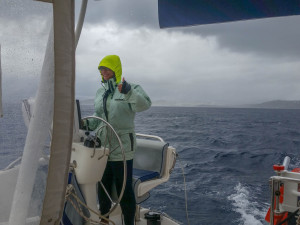 The wind and rain is so different than what we are used to in Canada. The wind, coming from the Sahara, is warm and incredibly dry, especially noticeable since it is pouring rain!  The rain pelts our faces, hands and legs (we don't have time or need to put rain pants on), yet our skin remains dry – a strangely pleasant feeling.
Since we were anchor up anyway we decide to check out a couple of nearby anchorages that looked like they could offer better protection. Two hours later we were right back almost exactly where we had started, only this time a number of boats had left and we had quite a bit more swinging room. So we now have 8 to 1 scope and about an extra 15 meters of chain weighing down our bridal.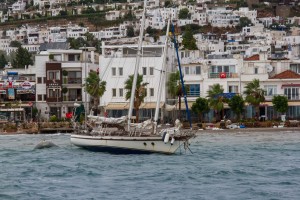 We've now been holding fast for over three hours. The wind is a steady 20 knots with gusts to 30. The seas rolling into the anchorage are well over a meter – every once in a while it slaps the bottom of our quite high bridge deck, which rarely happens when we are sailing in almost any sea. All in all we are very comfortable. Purrr is looking after us incredibly well. Aside from the 80+' expedition trawler beside us that for sure has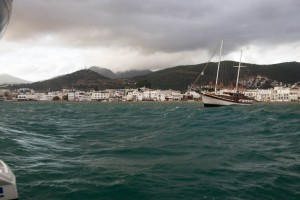 active stabilizers, we are noticeably one of, if not the most stable boats at anchor. The wind is forecast to subside after midnight, so looks like this will be our first anchor watch night, not bad after almost 7 months of living aboard.